Read the short story of the SUSTAINPACK Pilot Case lead by HPX Polymers that was selected through the FlexFunction2Sustain Open Call working on the surface functionalization of Circular flexible food packaging.
 We are developing bio-degradable and/or bio-based packaging concepts, which are fully recyclable, with different industrial customers and production partners. One of the possible concepts (#1) is based on a combination of a barrier coated bio-polymer laminated to a stiff paper using a polyvinyl alcohol (PVOH) that improves the oxygen barrier and at the same time offers a degradable and soluble layer. Another concept (#2) is the co-extrusion of a bio-polymer film with PVOH core, to increase the oxygen barrier and allows a biodegradable and recyclable polymer film. One other possibility (#3) would be the combination of co-extruded polymer layers with a PVOH barrier layer in between. This will allow easy recycling of the different polymers used on the different outer sides for the optimization of the mechanical and barrier behaviour of the whole film combination e.g. one side PE for maximum water vapour barrier the other side PBS or PET with improved oxygen barrier and for mechanical stability and or reverse printing. The PVOH layer would dissolves in water during the pre-treatment step of recycling, and the laminate debonds. By this way, PBS or PET and PE layers are easily separated via density, leading to clean fractions of PVOH solution, PET or PBS, and PE for direct mechanical recycling process. One last approach (#4) is mono-layer film suitable for thermoforming providing biodegradability, recyclability and improved barrier.
The aim of this project is to find out the suitable PVOH formulation. This requires deep understanding and therefore investigations of viscosity, layer thickness, additives for adhesion and extrusion versus solubility of the PVOH. Different series of product demonstrators are to be produced based on these basic combinations.
In order to execute this Pilot Case, HPX Polymers is using the combined services of FlexFunction2Sustain consortium partner Fraunhofer Institute for Organic Electronics, Electron Beam and Plasma Technology IVV and FEP, IPC – Centre Technique Industriel de la Plasturgie et des Composites, COATEMA, INL –  International Iberian Nanotechnology Laboratory:
PVOH-based adhesives cannot be used on a classical lamination line. Without the solvent, i.e. water, PVOH loses its tackiness and adhesion, so a "wet" lamination with following drying step is essential. This cannot be offered on a classical solvent based lamination line, which typically first dries the adhesive, and then is laminating this very sticky adhesive layer against the second solid layer e. g. paper.
For Co-extruded blown or cast films, extrudable PVOH-compounds need to be developed. Due to the solubility, PVOH cannot be compounded on classical compounding lines using under waterbath granulation.
Further details on SUSTAINPACK Pilot Case development will follow. We promise to keep you posted on the progress!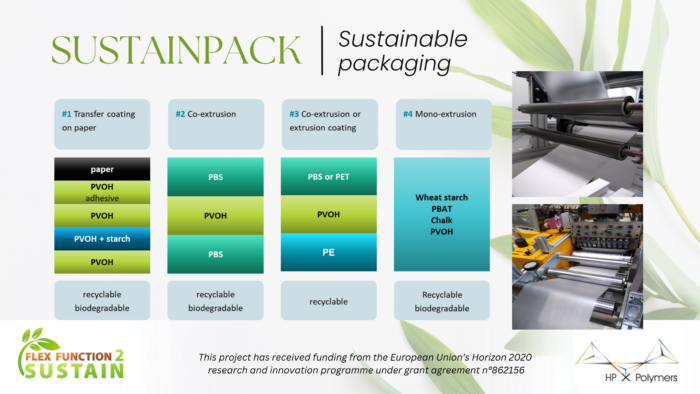 .