What?
Project acronym: FlexFunction2Sustain
Project full name: Open Innovation Ecosystem for Sustainable Nano-functionalized Flexible Plastic and Paper Surfaces and Membranes
Project grant agreement number: 862156
FlexFunction2Sustain, an Open Innovation Test Bed ecosystem, launches an Open Call for Pilot Case projects with the objective to support companies in developing and testing novel nano-functionalised plastic, paper and membrane surfaces. In the framework of the Open Call, up to 20 SME (highest priority) and large industries may receive subsidised access to top-notch European Research Infrastructure and Innovation Services provided by the FlexFunction2Sustain OITB members.
Interested companies can apply to one of the following application areas, e.g.:
sustainable smart packaging;
surfaces & membranes in bio application;
plastic and paper electronics;
optical films for security and design;
smart plastic films for architecture applications;
smart plastics in automotive application.
Specifically, supported projects shall have the objective to:
transform a product idea into a functional product/part demonstrator;
test and implement new materials and/or novel nano-technologies to improve enable novel functional plastic, paper, and membrane surfaces for sustainable and smart products;
create exploitation and commercialisation plans targeting early market adoption of innovative products.
When?
The Open Call will open from September 2021 to January 2023. Applicants will be able to apply anytime during this period. Any submitted proposal will be evaluated in the nearest cut-off dates (deadline: 17:00 CET / CEST).
CUT-OFF
DATES
1st cut-off

28 January 2022

2nd cut-off
29 July 2022 (extended until 12 August 2022)
3rd cut-off
27 January 2023

(extended until 03 February 2023

)
Who?
The Call is open for Small and Medium-sized Enterprises (SMEs), start-ups and/or large enterprises:
from all activities fields addressing above mentioned application areas;
with technical or nontechnical background.
Please note that the main factors determining the type of the company are staff headcount and, either, turnover or balance sheet total (see the COMMISSION RECOMMENDATION of 6 May 2003 concerning the definition of micro, small and medium-sized enterprises). If you are still not sure, please check the User Guide to the SME Definition. Please also note that the check of the type of company will be complete if your application is selected for funding.
Type of company
Staff headcount
(and)

Turnover

(and/or)

Balance sheet total

SME
Medium-sized
˂ 250
≤ € 50 m
≤€ 43 m
Small
˂ 50
≤ € 10 m
≤ € 10 m
Micro
˂ 10
≤ € 2 m
≤ € 2 m
Given the project's aim of fostering the competitiveness of European SME, the primary target of the FlexFunction2Sustain Open Call is Small and Medium-sized Enterprises (SMEs). That means, provided they score above the required threshold, a certain proportion of European SME applicants may take priority over higher ranked proposals submitted by other organisation types. Nevertheless, large enterprises are also eligible applicants.
In order to be eligible for this Call, your company will also have to be established in one of the eligible countries. Please check the list of countries in the attached document.
Why?
All successful applicants to the FlexFunction2Sustain Open Call will:
get access to an ecosystem of all major nano-functionalisation techniques available for plastic and paper surfaces;
benefit from FlexFunction2Sustain's unique ecosystem composed of leading universities and research organizations, a number of innovative technology suppliers, recognized experts in business development and investors;
be provided with customized support through a unique and complete set of services integrating technical, business, ecosystem expertise which will enable them to build up sustainable business cases.
The overall budget for the programme is 2.25 M€. We aim at supporting 20 projects from this budget. FlexFunction2Sustain considers that proposals requesting a contribution between EUR 80 k€ and 130 k€ would allow the objectives of the call to be addressed appropriately. Nonetheless, this does not preclude submission and selection of proposals requesting other amounts.
Each use case will be co-funded by the applicant and the FlexFunction2Sustain project. The FlexFunction2Sustain project will fund up to 70% of the total cost of the Pilot Case project. The total cost of the case will be defined as part of the negotiation of the Service Delivery Plan between the successful applicant and FlexFunction2Sustain. The free of charge contribution by the FlexFunction2Sustain consortium is composed of:
Qualified human resources dedicated to the execution of the Pilot case project;
Consumables and materials, required for the product/part/prototype demonstrator as well as travel costs for OITB experts to the Pilot Case project partner;
Access to top-notch equipment and infrastructure of the pilot lines.
The applicants are expected to cover their own expenses in relation to the project (e.g., own personnel cost, travel, material provision and preparations, etc.) that should amount to at least 30% of the overall project budget. These will be considered as in-kind contributions to the project. Neither, the applicants will receive direct financial support from the project consortium. Nor, the applicants are required to pay for the services received by the FlexFunction2Sustain consortium.
Please consult the Joint Implementation Agreement for detailed information about:
Terms and Conditions for the Financial Support
Liability
Intellectual Property Rights Policy
Confidentiality
Dissemination
Checks and audits
Termination
Specific obligations
Joint Implementation Plan
Final Report Template.
Process?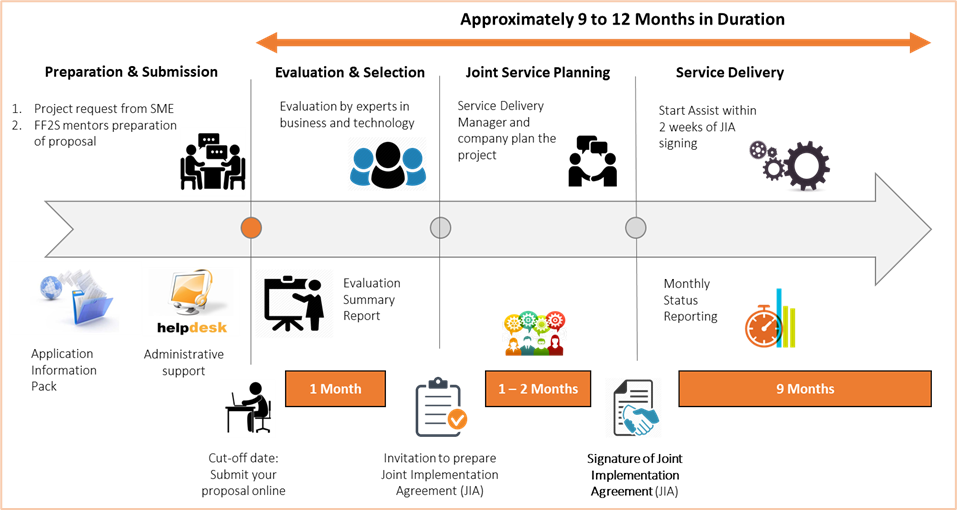 Any submitted proposal will be assessed shortly after the closest cut-off date and evaluated according to the following criteria:
Excellence (challenges to be overcome; proposed solution; current state-of-the-art; alignment with the scope of the FlexFunction2Sustain initiative; regulation, standardization and certification issues);
Implementation (work plan description; resources to be committed; TRL level; risk management);
Impact (market opportunity; go-to-market strategy; key exploitable results; other expected impacts).
Each criterion will be scored on a scale from 0-5 and the maximum overall score is 15. The standard threshold for individual criteria is 3, and the standard overall threshold applying to the sum of the three individual scores, is 10. The average of the 3 scores given by evaluators per section and total will be calculated for each proposal. Proposals failing to achieve the threshold score per individual criteria and the overall threshold will be rejected. Proposals will be ranked according to the overall scores in a descending order.
Rejected proposals may re-apply in the next cut-offs. In case a proposal reaches the evaluation threshold but is not selected, it will be kept in a reserve list. They might be re-approached in case a higher scoring proposal fails to negotiate a Joint Implementation Agreement with FlexFunction2Sustain.
The most successful proposals, having passed the evaluation and technical feasibility check, will be offered the chance to negotiate and define a Joint Implementation Agreement with the Service Delivery Manager (SDM) assigned by FlexFunction2Sustain.
An Evaluation Summary Report will be sent to applicants approximately 6 weeks from submission deadline. The entire process from proposal submission until the end of service delivery could take up to 12 months in the case that your proposal is selected for funding.
Your data and content of your application will be kept confidential and will be shared only internally with FlexFunction2Sustain partners, evaluators and European Commission. General data (such as type of company or country of origin) will be used to create statistics and reports which will be exploited through the project in terms of communication activities. In addition, the names of selected companies and their countries of origin will be published on FlexFunction2Sustain website as part of Public Evaluation Reports.
How?
If you are interested in applying to the Call, please follow the steps listed below in order to submit your application.
Check the details on https://flexfunction2sustain.eu/
Download & review:
Application Guidelines;
Joint Implementation Agreement template;
Make sure that you satisfy eligibility criteria;
Consult the idea with FlexFunction2Sustain consortium for pre-qualification;
Register through the submission software at https://apply.flexfunction2sustain.eu;
Fill in the application data in the submission software;
Download the Application Form from the software;
Complete the Application Form, save it as a PDF file (MAX 5 pages), upload it and submit it through the submission software.
We will accept only applications in English language.
Important: We encourage all applicants to check the technical and business feasibility of their ideas well in advance of submission. The FlexFunction2Sustain consortium is happy to support this check through a mentoring programme. Therefore, applicants are advised to submit a simple description of their idea in bullet points to helpdesk@flexfunction2sustain.eu. Based on this description, a technical expert from the consortium will be assigned as mentor to the applicant to support the proposal preparation process.
Contact
If you need assistance with applying to the Call, or explanations about technology offerings and your possibilities with FlexFunction2Sustain, please send us your enquiries by phone to:  +420 226 217 422 or by email to helpdesk@flexfunction2sustain.eu. Helpdesk will be active Monday – Friday from 09:00 to 17.00 (CET/CEST). We will be happy to help you.
Complaints
Upon reception of the evaluation feedback, applicants will have the possibility to submit to the FlexFunction2Sustain Evaluation Panel complaints related to decisions of proposal evaluation and selection, in case there is an indication of a shortcoming in the way a proposal has been evaluated. The complaint procedure is not meant to question the judgement made by the evaluators; it will look at procedural shortcomings and – in rare cases – factual errors.
Complaint requests should be raised within 7 working days from the date of the evaluation feedback sent by FlexFunction2Sustain Helpdesk. If a complaint is submitted after that deadline it will be rejected without further examination.
Complaint requests sent by applicants must be:
related to the evaluation process;
sent by email to FlexFunction2Sustain Helpdesk;
received within the specified time limit specified.
An initial reply will be sent to complainants no later than two weeks after the deadline for complaint requests. This initial reply will indicate when a definitive reply will be provided.
A complaint committee may be convened to examine the peer review evaluation process for the case in question. The committee's role is to ensure a coherent interpretation of requests and equal treatment of applicants. The complaint committee itself, however, will not re-evaluate the proposal, but it will examine the eligibility of the complaints and factual arguments and claims of the complaints. Depending on the nature of the complaint, the committee may review the evaluation report and individual comments. In the light of its review, the committee will recommend an action. Only, if there is clear evidence of a shortcoming that could affect the eventual funding decision, it is possible that all or part of the proposal will be re-evaluated.
Please note:
This procedure is concerned with the evaluation process;
The committee will not call into question the judgment of the individual evaluators;
A re-evaluation will only be carried out if there is evidence of a shortcoming that affects the quality assessment of a proposal. This means, for example, that a problem relating to one evaluation criterion will not lead to a re-evaluation if a proposal has failed anyway on the other criteria;
The evaluation score following any re-evaluation will be regarded as definitive. It even may be lower than the original score;
Only one complaint request per application will be considered by the committee;
All complaint requests will be treated confidentially.