Read the short story of RECYBIB Pilot Case led by Smurfit Kappa that was selected through FlexFunction2Sustain Open Call.
The objective is to develop a monomaterial polyethylene (PE) bag in box with oxygen barrier properties, but without EVOH. EVOH is very sensitive to humidity, very low levels can be tolerated for recycling and the growing demand causes huge shortages.
In order to reach this objective, Smurfit Kappa needs to develop a coating or surface treatment on Polyethylene film providing an Oxygen Transmission Rate below 1 cc/24h/m2 75%HR for BIB applications. The chosen technology will need to give the wanted efficiency without impacting negatively the mechanical properties of the bag nor it's recyclability within the flexible PE recycling stream. It will need to be produced at a reasonable cost to find its place on the market.
The Consortium of the project will have to propose a barrier technology that can be applied on a PE film. Mechanical properties, barrier properties and food safety compliance will have to be evaluated by the Consortium and Smurfit Kappa. Samples of the barrier film will have to be produced, then transformed into a BIB by welding the film in the shape of a bag including the gland/tap association. The monomaterial gland and tap has already been developed by Smurfit Kappa and is at the step of consumer test. Nevertheless, one part of the tap, the membrane remains in elastomer and therefore needs to be changed in order to have a real fully monomaterial tap. But this is very challenging as it's one of the most important parts of the BIB, responsible to prevent the leakage of the tap.
The recyclability of this innovative BIB will have to be evaluated using a recyclability pilot plant for flexible PE packaging. Evaluation methods such as Recyclass and CITEO methods will also have to be used to determine its recyclability in the various European countries. Finally, the shelf life of wine in this new packaging will have to be tested. If the work on the membrane results to be excessive for the project, it can easily be left aside to focus on the film development and tap validation.
In order to execute this Pilot Case, Smurfit Kappa is using the combined services of FlexFunction2Sustain consortium partner: IPC – Centre Technique Industriel de la Plasturgie et des Composites, Fraunhofer Institute for Organic Electronics, Electron Beam and Plasma Technology FEP, Fraunhofer Institute for Organic Electronics, Electron Beam and Plasma Technology IVV, INL –  International Iberian Nanotechnology Laboratory, Sonnenberg Harrison Partnerschaft:
Production of PE rolls
Development of an oxygen barrier coating with nano-lacquers at pilot scale
Development of an enhanced oxygen barrier surface at pilot scale through PVD surface treatment
Food contact assessment
Recyclability trial
Intellectual Property analysis
Stay tuned! Further details on RECYBIB Pilot Case development will follow.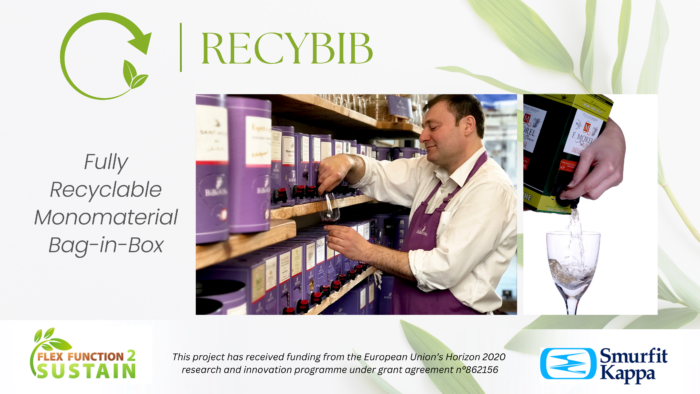 .