Read the short story of POSIDONIA Pilot Case lead by PHEE private company that was selected through FlexFunction2Sustain Open Call working on hydrophobic & UV-protective films for sustainable panels based on natural waste fillers and bio-based resins for exterior applications.
Exterior decorative panels are used for aesthetic reasons, temperature comfort (shading) and lighting design. The synergy of the UV radiation, elevated temperature, increased humidity and rain, create a very aggressive environment for those composite materials. Currently, phenolic based composites (HPL) are massively used in interior (wall-coverings, furniture, flooring) as well as for exterior applications on construction projects.
PHEE, a Greek materials startup, develops and produces, via an unconventional manufacturing process, bio-based composite panels by upcycling, as fillers, natural fibrous residues, such as Posidonia Oceanica dead leaves, combined with certified bio-based thermosetting resins. PHEE materials show a lower embodied carbon and toxicity in comparison with phenolic based laminates. PHEE composites fulfil industry specifications for interior applications and but there are still technical challenges to overcome for introducing materials for exterior applications where they have identified a business opportunity! Based on their market research, exterior panels are a fast-growing market currently searching for sustainable alternatives that can contribute efficiently to net-zero goals. According to Market Research Future, the HPL exterior boards market industry is projected to grow from USD 3.1 billion in 2022 to USD 4.3 billion by 2030, exhibiting a compound annual growth rate (CAGR) of 4.80% during the forecast period (2022 – 2030).
During POSIDONIA pilot case a triple-layer biocomposite material will be produced and evaluated, where the outer skins will be modified creating micro-patterns. These micropatterns provide superhydrophobic behaviour and consequently water repelling capabilities, while their material consists of bio-based polymers with advanced UV protection. The expected enhanced hydrophobic properties and UV resistance of novel biocomposites will lead to sustainable cladding and siding panels for exterior applications on construction projects introducing a economic viable with lower embodied carbon alternative to conventional phenolic based HPL's.
In order to execute this Pilot Case, PHEE is using the combined services of FlexFunction2Sustain consortium partner Aristotle University of Thessaloniki, IPC – Centre Technique Industriel de la Plasturgie et des Composites, SONNENBERG HARRISON:
Development of the thermoplastic UV protective & hydrophobic film
Production & Testing of the enhanced PHEE panels
Feasibility Cost Analysis and IP management
Further details on POSIDONIA Pilot Case development will follow.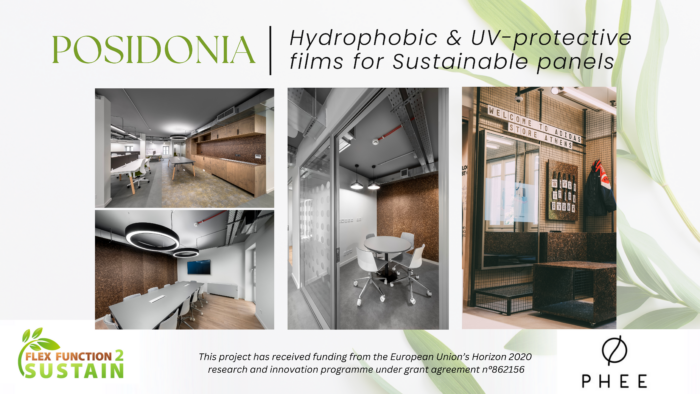 .