Last chance to apply to FlexFunction2Sustain OpenCall that expires on 27 January 2023, 17:00 (CET)! Small and Medium-sized Enterprises (SMEs), start-ups and large enterprises can apply to receive subsidised access to top-notch European Research infrastructure and innovation services provided by our OITB members. We offers financial support of up to 130 k€ for each project (for a duration of 12 months) in developing and testing novel nano-functionalised plastic and paper membrane and surfaces.
All successful applicants will get access to an ecosystem of all major nano-functionalisation techniques available for plastic and paper surfaces and will be provided with customized support through a unique and complete set of services which will enable them to build up sustainable business cases. The offered services cover the full value chain from a product idea to market success:
material & product design
process & product development
pilot and small series production
characterisation & testing/verification
business development
IP landscaping
new markets & client relations
Detailed information about the conditions of the Call can be found here.
Further assistance is available through helpdesk@flexfunction2sustain.eu or by phone to +420 226 217 422 (Monday – Friday from 9 AM to 5 PM CET).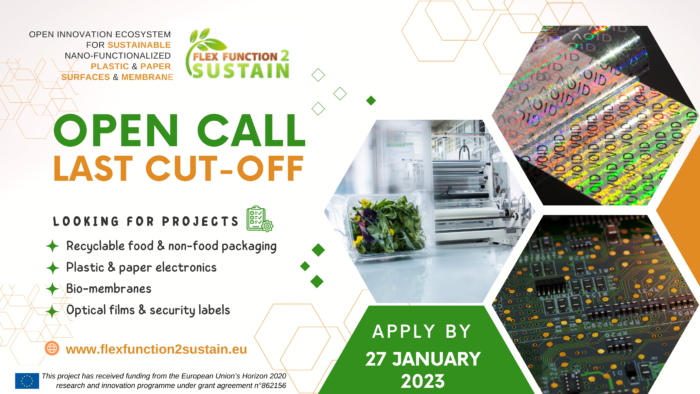 Check out the video how to apply to the Call here.