In the period 28-29 June, FlexFunction2Sustain joined the Conference on Industrial Technologies IndTech2022 in Grenoble, France. Organized within the framework of the French Presidency of the Council of the European Union, the event brought together industry and innovation leaders, scientists, researchers and public decision-makers.
During the IndTech2022 conference, Open Innovation Test Bed (OITB) Village Festival was created in a dedicated section presenting the innovations and services of 13 different ecosystems. FlexFunction2Sustain showcased the results and demonstrators of the project – first prototypes of novel, eco-friendly plastic and paper products, e.g:
organic photovoltaic cell (OPV) on a recycled polypropylene substrate,
fully recyclable drink pouches,
optical features on biodegradable film,
innovative fresh food packaging made of semi-transparent paper,
membrane based syringe filters for diagnostics and water filter applications.
FlexFunction2Sustain used the opportunity to promote the Competitive Call for Pilot Case projects which is open for application by the end of January 2023.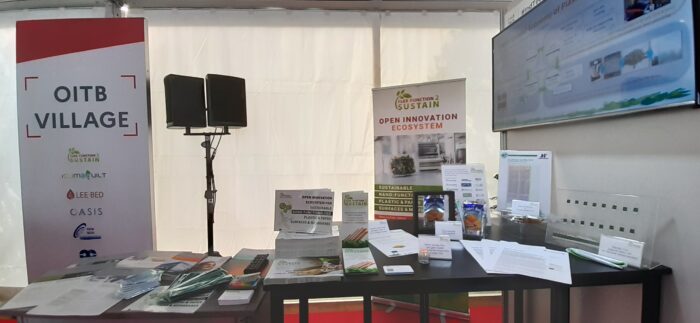 On 30 June, the FlexFunction2Sustain partners took part in a satellite event – a workshop "Open Innovation Test Beds as a Service to the Industry" where the OITBs shared common challenges, lessons learnt and good practices towards a successful sustainability for the future of these ecosystems. The event targeted discussions from the business model and legal challenges of the establishment of the Single Entry Points (SEP) to services offered and Open Calls aiming to attract new clients to request access to those services. During the session dedicated to the Sustainability, Business Model and Legal Challenges, the project coordinator John Fahlteich, Fraunhofer FEP shared his experience gathered during the establishment of the ecosystem. Robert Harrison, Sonnenberg Harrison, talked about the Intellectual Property by highlighting its importance to the EU-funded project. The closing session focuses on recommendations toward European Commission for future OITB support and strategy.
Our impressions from this great event are captured in the video below: