Being at month 42, FlexFunction2Sustain published an overview highlighting the achievements of its implementation. The consortium of 19 European partners unified their competencies, practical and business development expertise and technical infrastructure to attain their ultimate goal to establish a sustainable network of excellence (Open Innovation Test Bed (OITB)) for nanotechnologies for eco-friendly plastic and paper products.
Within FlexFunction2Sustain project, the technical facilities were aligned according to the needs of six industrial use cases. The collective efforts of the team have been truly commendable and resulted in innovative product concepts:
Sustainable recycled PET and cellophane based label with biobased UV curable resins and recycled Al (HUECK Folien use case)
Paper laminate for marine degradable shampoo sachets – developed by Procter and Gamble
Switchable syringe filter with gold coated membrane (i3Membrane use case)
Dashboard component demonstrator with touch functionality – developed by Centro Ricerche Fiat
Fully recyclable mono-materials drink pouches (CapriSun use case)
Paper based fresh food packaging (SonaeMC use case)
While we celebrate these achievements, it's crucial to keep our momentum going. As we move towards the completion of the FlexFunction2Sustain project, the following are the next steps and areas of focus :
Successful completion of the Pilot cases selected in the Open Call
Focus on a successful transition to a sustainable OITB business by ESNA (together with the SEP)
Organisation of the Final Public event and Review meeting for the project end
Find out further details by downloading the overview presentation HERE.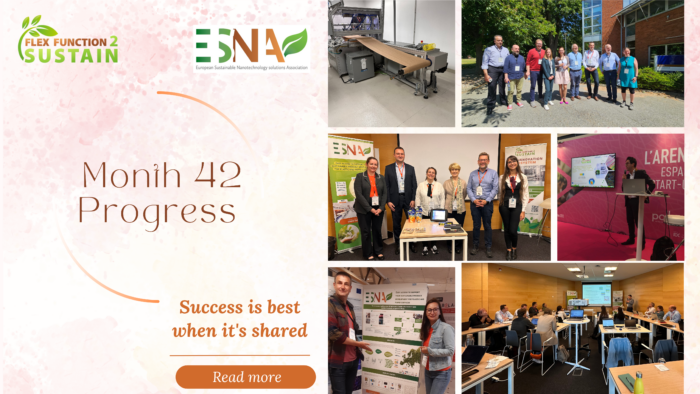 .