On 27 March 2023, the Project Coordinator Christian May, Fraunhofer Institute for Organic Electronics, Electron Beam and Plasma Technology (FEP), will present FlexFunction2Sustain at the hybrid workshop"Leveraging deep tech green transition and digital solutions to transform EU industrial ecosystems".
The workshop is organised by the European Commission in collaboration with DEEP Ecosystems 500 and hosted by the Technical University of Munich, located in one of the strongest deep tech ecosystems in Europe.
This one-day workshop will address the potential of deep tech and corporate open innovation for leveraging green transition and digital solutions to transform EU's industrial ecosystems. The event will offer an evidence-based and open dialogue between policy-makers, corporate officials, entrepreneurs, universities, technology transfer professionals, and other stakeholders. The keynote session in the morning and moderated working group sessions in the afternoon will provide participants with new insight and ample space for exchange.
The questions, which arise for this workshop are:
How to mobilize effectively the innovation strategies and technological capacities of large and small firms to provide the green/digital solutions for the future?
How to identify where the breakthrough potentials for green/digital deep tech in Europe are and how to focus effort on these areas?
How to harness deep tech stakeholder collaboration and technology transfer in innovation and industrial ecosystems?
Which public policy instruments could facilitate the increase of investments in green/digital deep tech innovation and infrastructure (demonstrators, testbeds, incubators and accelerators)? How to better support transfer of fundamental/low TRL research results to industrial R&I?
Participation is free of charge and can be registered HERE
Details on the meeting agenda can be found HERE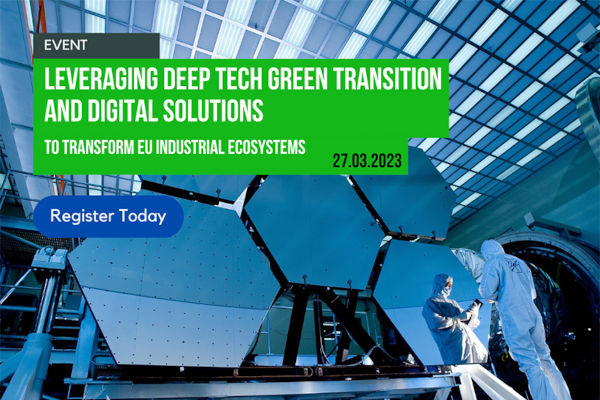 .