FlexFunction2Sustain project will be presented at the upcoming 12th International Conference & Exhibition on Green Flexible Printed Electronics Industry (ICEFPE22) and AGRIVOLTAICS 2022 which will be held in the period 10-12 October 2022 in Athens, Greece.
ICEFPE22 & AGRIVOLTAICS 2022 will bring together key industrial players, top-class scientists, engineers, end-users, entrepreneurs, farmers, investors, policy makers, politicians and representatives from the national, European and international authorities to discuss, networking, make business and establish the Strategy and Policy for boosting the rapidly evolving Green FPEs and Agrivoltaics contributing to a Green, Digital, Decarbonized Industry and Circular Economy, Society and Planet.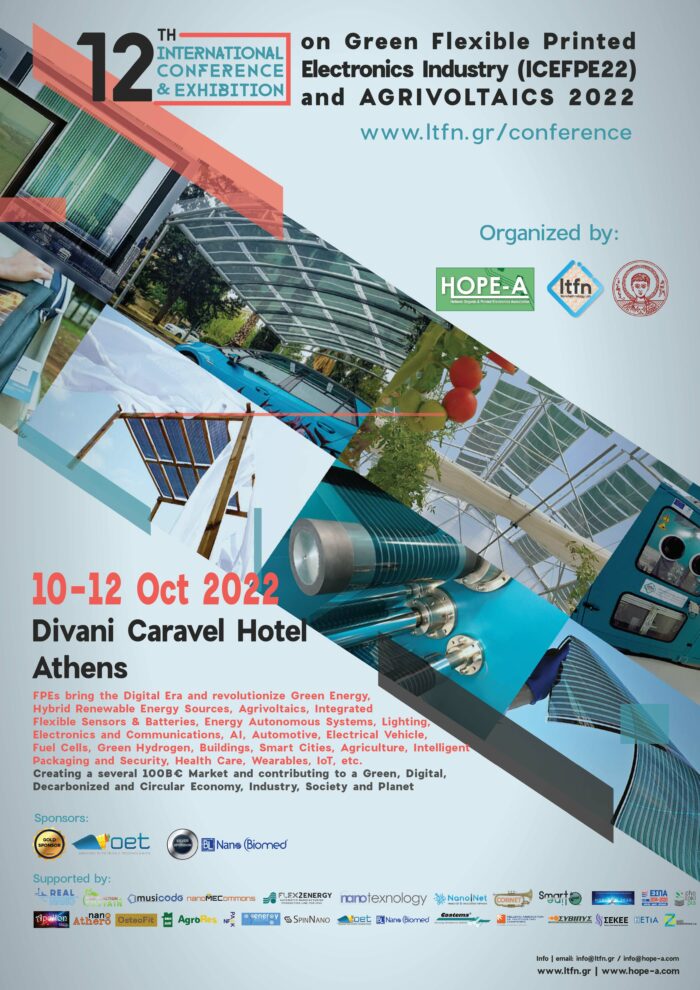 Topics to be discussed include:
Flexible Organic & Printed Electronics and Photonics
Green & Renewable Energy
OPVs and 3rd Generation Photovoltaics
PV and OPV Panel Technologies for Agrivoltaics
LEDs and OLEDs for Lighting
Printed Sensors and Biosensors
Flexible and Printed Energy Storage and Batteries
Flexible and Printed OLEDs for Lighting and Displays
Bioenergy, Fuel Cells & Green Hydrogen Generation
Energy and Lighting for Buildings, Smart Cities, Automotive, Healthcare, IoT
Energy Autonomous systems in Consumer Electronics, Smart Packaging, Tourism, Defense, Wearables, IoT
3D Printing Electronics in System Integration of Functional Products
Hybrid Renewable Energy Sources (RES) for Greenhouses
FPE Applications (Lighting and Sensing) in Agriculture and Crop Production
Energy & Lighting Production in Agriculture and Crop Production
Energy Autonomy in Agriculture and Crop Production
Adapted AI in Agrivoltaics
Key role in Social and Environmental Impacts
Economics of Agrivoltaics and Business Models
During the event, FlexFunction2Sustain project will be presented by our Coordinator Christian May. Grab the opportunity to hear how we are progressing and what are opportunities currently available for funding start-ups, SMEs and large industries.
More information and registration:  http://www.ltfn.gr/
.