FlexFunction2Sustain project will be presented at the upcoming 13th International Conference & Exhibition on Green Flexible Printed Electronics Industry (ICEFPE23) and AGRIVOLTAICS 2023, which will take place from 30 October to 1 November at the Divani Caravel Hotel, Athens, Greece.
Organised by our consortium partners Hellenic Organic & Printed Electronics Association (HOPE-A) and Nanotechnology Lab (LTFN), the conferences will gather specialists in Green Flexible Printed Electronics (FPE) Industry and Agrivoltaics to explore innovative technologies for improving food production, energy generation, and sustainable farming practices. ICEFPE will put focus on areas that contribute to a green, digital, decarbonized industry and circular economy, society, and planet. On the other hand, Agrivoltaics is an emerging technology field that combines the most innovative Renewable Energy solution based on Flexible Semitransparent Organic Photovoltaics (OPV) and the other FPE devices with agriculture to lead a sustainable farming process and crop growth. The events will bring together key industrial players, top-class scientists, engineers, end-users, entrepreneurs, farmers, investors, policy makers and politicians  to discuss, network, make business and establish the strategy and policy for boosting the rapidly evolving Green FPEs and Agrivoltaics.
During the event,  Dr. Spyros Kassavetis, Head of Nanofabrication Group, Nanotechnology Lab LTFN, AUTh, will give a talk about the Open Innovation Test Beds (OITB) as well as the FlexFunction2Sustain OITB Services and funding opportunities for SMEs and Start-Ups.
Registration and more information about ICEFPE23 (here) and AGRIVOLTAICS 2023 (here). 
Stay tuned for details!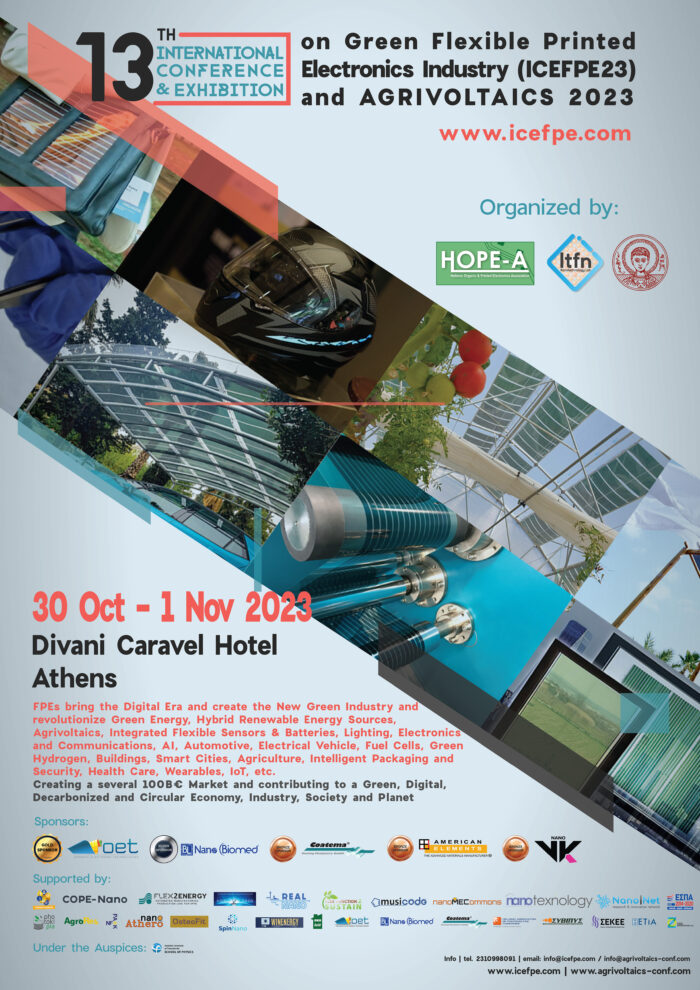 .