Read the short story of BIOESS Pilot Case lead by ARCADIA spa that was selected through FlexFunction2Sustain Open Call working on the environmentally sustainable packages.
Nowadays multi-layer plastic packaging represents an important environmentally sustainable issue. In particular, multilayers conventional packaging are made of a high numbers of ultra-thin layers of different materials which makes the packaging very complex to recycle. Its recycling process consists in several steps requesting a great energy and work which, beside the environmental issues, make furthermore the end product more expensive. Ovtene® is a commercial plastic material, which showed interesting results in terms of food preservation, being able to better maintain the organoleptic properties. By possessing a reduced amount of plastics and being monomaterial, can be proposed as the potential best solution for environmental sustainability. The development of modified Ovtene® materials, such as a prototype with improved barrier properties through a surface treatment or a coating deposition without compromising the recyclability, could represent a potential packaging solution to be used in the market of food products preserved in MAP (Modified Atmosphere Packaging) and markets where the sensory properties play a key role and need to be preserved. Moreover, due to the unique intrinsic properties of Ovtene®, the introduction of the secondary shelf –life concept may also represent an important opportunity to be investigated. The successful prototype will be certified against reference material for environmental sustainability through LCA analysis, barrier properties, shelf-life and migration tests.
In order to execute this Pilot Case, ARCADIA is using the combined services of FlexFunction2Sustain consortium partner JOANNEUM RESEARCH, INL – International Iberian Nanotechnology Laboratory, Fraunhofer Institute for Organic Electronics, Electron Beam and Plasma Technology IVV, IPC – Centre Technique Industriel de la Plasturgie et des Composites:
Barrier development
Water Vapor Transmission test
Oxygen Permeability test
Shelf life (accellerated) test
Migration tests (food contact certificate)
Life Cycle Assessment
Recyclability tests
Stay tuned! Further details on BIOESS Pilot Case development will follow.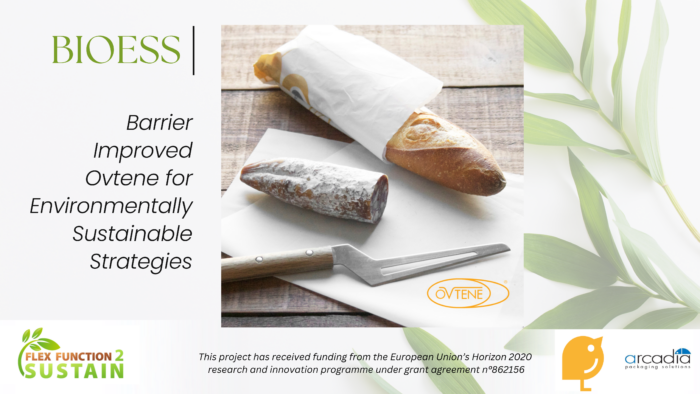 .