On June 28th, 2023, a workshop on Sustainable Functionalised Nanomaterials was hosted by AMIRES in the beautiful city of Prague, Czech Republic. Organised in the frame of the EU-funded projects FlexFunction2Sustain and Convert2Green, the event brought together a variety of renowned experts, researchers, and industry leaders who delved into the latest advancements and practical applications of nanotechnology in creating a sustainable future.
In today's rapidly evolving world, where the need for sustainable solutions has become paramount, the field of nanotechnology stands at the forefront of innovation. Nanomaterials, with their unique properties and versatile nature, hold tremendous potential to revolutionize various industries and address pressing global challenges, said Vaclav Smitka, CTO at AMIRES for opening the event and introducing the importance of the workshop's topic.
The special guest in the opening session, Petr Očko, Deputy Minister of Industry and Trade and CEO of CzechInvest, presented the current status of the Innovation Ecosystem in the Czech Republic. He enlightened the audience with valuable insights on the ongoing activities of the business and investment development agency CzechInvest by specifying the role of the Technology Incubation project designed to support innovative small and medium-sized companies and start-ups.
Structured into four thematic sessions, the agenda was comprehensively covering the whole value chain. The talks in session Sustainable design and manufacturing proved that the latest advancements in sustainable nano-functionalized materials is a pioneering field that promises to revolutionize the industry and combat pressing environmental challenges. For illustrating the end-of-life options for bio-based plastics, strategies to minimize waste generation, maximize resource efficiency, and promote responsible disposal or recycling were presented. Moreover, a dedicated session on sustainable materials in applications aimed at exploring how innovative materials can drive positive change in various industries. The speakers highlighted concrete industrial applications utilizing sustainable materials and technologies, including examples of best practices of environment-friendly solutions in various areas of application (sustainable packaging, reprocessing, smart textiles, smart therapies, healthcare).
Lastly, the concept and objectives of Open Innovation Test Beds FlexFunction2Sustain and Convert2Green were presented and showcased their significance in fostering sustainable materials development and manufacturing.  During the panel discussion, the participants discussed how to move from project ideation and available funding streams to a successful cooperation and to involve more SMEs.
With a wealth of expertise and knowledge-sharing, the workshop provided the ideal platform for exploration of sustainable functionalized nanomaterials. Many opportunities exist at the value chain level, opening new avenues for innovation regarding nano and bio-materials that increase sustainability. The event served as an excellent opportunity to exchange ideas and experiences to enrich the community and stimulate the establishment of interdisciplinary collaborations.
If you missed the workshop and you would like to learn more, the presentations can be downloaded HERE.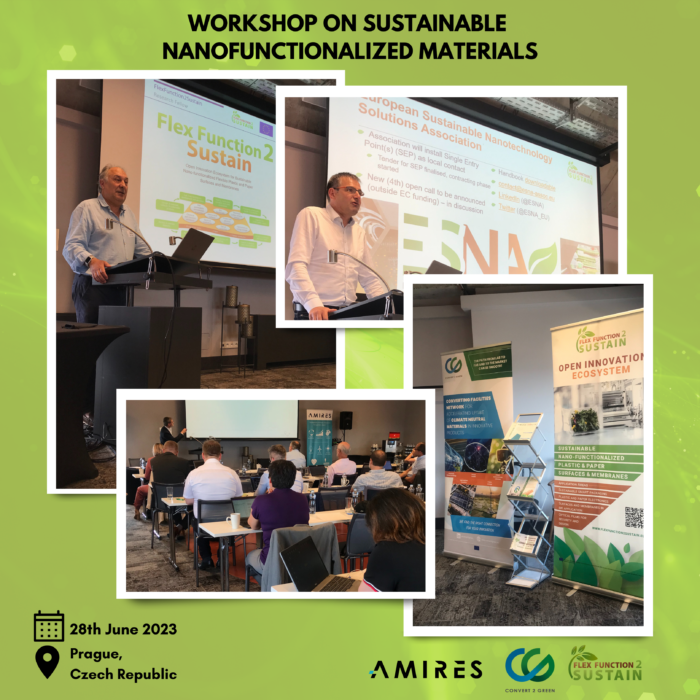 .